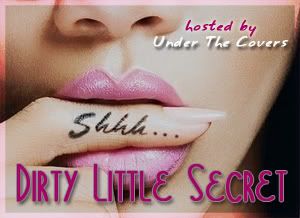 Dirty Little Secret
is a weekly meme hosted by us at Under the Covers. Every Thursday we get to know other bloggers and our readers more intimately by asking them a question hoping to reveal their dirty little secrets. We hope that you will all join us!
To participate in the meme all you need to do is:
1. Be a follower of Under the Covers.
2. Create a post in your blog taking the meme image (code above) and copy instructions.
3. Answer the question we propose! This can be done in any way you like, post a video, write a post etc.
4. Then add your link (to the linky from UTC blog)
This week's question:
What books have recently made you cry?
My Answer:
The last book that I can remember really crying from, we aren't talking my eye's getting a bit watery but tears down my face crying was:
Great Hexpectations (Dulcie O'Neil #3) – H.P. Mallory
Dulcie and Knight were locked up in jail, Knight awaiting his death sentence. The way these two were together on their last night together really had me going. Tears streaming down my face and everything.
The most recent teary eyed book was:
Once Burned (Night Prince #1) – Jeaniene Frost
The part when Leila was being held captive and tortured, her strength and fortitude brought a tear to the eye. No actual tears fell but there was definite misting. LOL
A book that will always bring a tear to the eye is:
Lover Awakened (Black Dagger Brotherhood #3)
You can't read this book and not be touched, it is one of the best of the series if not the best. Zsadist, having endured so much the first 100 years of his life. Held as a blood slave (and that's not the worst of it), he struggles against his past and his future with Bella.
It takes a lot to bring a tear to my eye, so when an author manages to move me to the point of tears it's a great feat!