Burned by Darkness: Baine and Tayla
(Dragons of Eternity #1)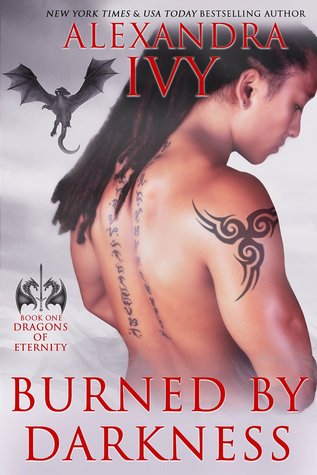 Summary:
From Goodreads.com
The Dragons of Eternity were once creatures of myth and legend. Now they've returned to the world, prepared to claim what's rightfully theirs…
Tayla is desperate for a place to call home. After years on the run, the young imp impulsively buys a teahouse and is determined to build a new life. Unfortunately, she's barely opened the doors when she's tracked down by the dragon who purchased her from troll slave-traders. He demands she pay off her debts…in his harem.
Baine has devoted a quarter of a century to tracking down his beautiful concubine. And now that he has her in his grasp, he's not about to let her go. But it's soon apparent that he isn't the only demon hunting her. He must uncover her secrets or risk losing her forever.
Review:
I love dragon shifters, who wouldn't?! So I had some high hopes for this one but sadly, I was left kind of meh at the end of this short novella. So Tayla has been on the run for 25 years and finally settles down to have her own teashop which has been her dream but something happens, I can't really remember what but it brings her scent back to Baine who has been hunting her for 25 years, but he's not the only one that has been hunting her for her rare gift. Turns out that her dad sold her into slavery to some trolls which then sell her to a dragon (Baines father) and Baine takes one look at her and decides to make her his so he buys her from his father for a small fortune. When Baine finds her again it starts this whole downward spiral of people hunting Tayla for her anti-climactic gift. The story is kind of eh, and the characters aren't much better. There was little of A. Ivy's usual humor and action. All around it was just mediocre. It wasn't bad, but it wasn't great either. Usually I enjoy Ivy's stories, but this one fell flat. Maybe I'll read on in the series but I won't be grabbing it at first opportunity.