Bite Me: Vic Barinov and Livy Kowalski
Pride Series #9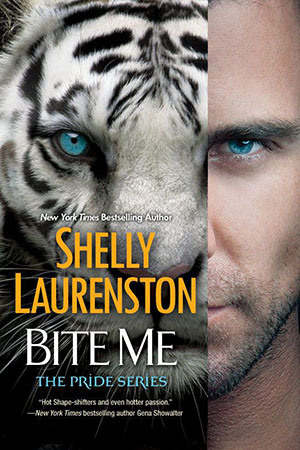 Summary:
From Goodreads.com
Livy Kowalski has no time for idiots. When you shapeshift into a honey badger, getting through life's irritants is a finely honed skill. Until she gets stuck housing her nutso cousin and dealing with her dad's untimely and unexplained demise.
That's where Vic Barinov comes in—or his house does. Vic can't step outside without coming back to find Livy devouring his honey stash and getting the TV remote sticky. It gets his animal instincts all riled up. But he'll have to woo her at high speed: all hell is breaking loose, and Livy is leading the charge…
Review:
Love, Love, Loved this book, Love, Love, Love this series, Love, Love, Love this author! Every book I've read in this series I've given five stars. Laurenston has such a great sense of humor you can't help but laugh throughout the book. All of her characters are quirky and funny. This one had me laughing until I was crying, what a wonderful feeling! I fell in love with Livy in WOLF WITH BENEFITS and was so glad then I found out the next book was going to be about our favorite honey badger. Livy has a very sarcastic sense of humor and a temper shorter than she is, she's quick to put the smack down and fight creatures more than twice her size, and wins too. Seven foot tall bears are afraid of the 5 foot nothing Livy. Livy and Vic meet in the previous book when they are rescuing Toni's (Livy's best friend) little brother. I'm not sure how that friendship flourished but she must have liked him because ever since she's been breaking into his house eating all of his honey. Good thing Vic finds it more amusing then anything. When Livy does a favor for Deanne she is shocked to find the body of her father in some rich human's house. She is livid, if anyone was going to kill her father for sport it would be her damnit! Somehow Livy does the impossible and unites her whole honey badger family under one cause and they will come out on top. Not only does she involve her family but she drags the willing Vic into the mess and they go on a journey around the world to find her father's killer. Get ready for lots of laughs, lots of action and good times ahead as you enter this wonderful reading trip.