Ride Steady: Carson "Joker" Steele and Carissa Teodoro
Chaos Book 3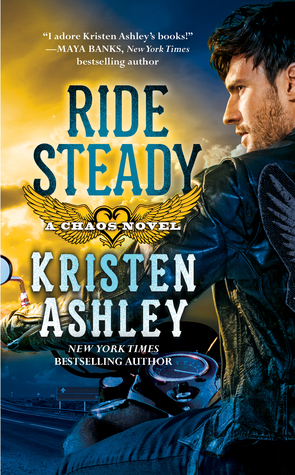 Summary:
From Goodreads.com
The ride of her life . . .
Once upon a time, Carissa Teodoro believed in happy endings. Money, marriage, motherhood: everything came easy---until she woke up to the ugly truth about her Prince Charming. Now a struggling, single mom and stranded by a flat tire, Carissa's pondering her mistakes when a vaguely familiar knight rides to her rescue on a ton of horsepower.
Climb on and hold tight . . .
In high school, Carson Steele was a bad boy loner who put Carissa on a pedestal where she stayed far beyond his reach. Today, he's the hard-bodied biker known only as Joker, and from the way Carissa's acting, it's clear she's falling fast. While catching her is irresistible, knowing what to do with her is a different story. A good girl like Carissa is the least likely fit with the Chaos Motorcycle Club. Too bad holding back is so damned hard. Now, as Joker's secrets are revealed and an outside threat endangers the club, Joker must decide whether to ride steady with Carissa---or ride away forever . . .
Review:
So my thoughts on this book are this… I loved it! From beginning to end it kept me fully engaged and entertained. I stayed up late reading, was late getting back to work at lunch because I was too engrossed and was sad when it ended. I have enjoyed all the books in the Chaos series so far. Shy is still my favorite but damn does Joker give him a run for his money. He's all stoic and shit.. He's loved Carissa since he was a teenager and when he rescues her alongside the highway he's pretty upset when she doesn't remember him. When he left she was the darling of their high school and had a bright future in front of her, now she's in a pretty bad situation and Joker can't help but to lend a helping hand but is determined to keep his distance. Carissa is just as determined to pull him in. Joker put up a good resistance but in the end his will was no match for Carissa, she broke him down little by little. I really adored watching it happen; there was no way Joker wasn't going to give in no matter how much he wanted to stay away. Some things are just meant. Both Carissa and Joker had some hard knocks growing up. Carissa lost half her family and Joker was severely beaten by his old man. These things affected each differently. It made Carissa crave a family, home and hearth she never closed her heart to love. Joker basically withdrew from all emotion, a part of life but not really participating. He even keeps his brothers at an arm's length. I think Jokers change is the most dramatic in this book and it does your heart some good as you watch him start to open up and let people in. He starts to belong to his brotherhood and lets Carissa and her son into his heart. There are some bumps along the way but these two stick it out and stick together. They know that together with the help of friends they can tackle anything, including a drug lord and Carissa asshole ex-husband. I highly suggest this book and if you love rough around the edges alpha men this series is for you!
*Review copy provided for an honest review. No other compensation provided.