Rock Addiction
(Rock Kiss #1)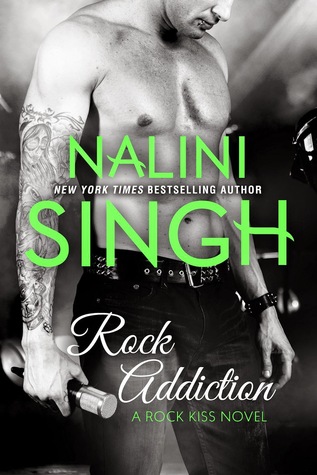 Summary:
From Goodreads.com
A bad boy wrapped in a sexy, muscled, grown-up package might be worth a little risk…
Molly Webster has always followed the rules. After an ugly scandal tore apart her childhood and made her the focus of the media's harsh spotlight, she vowed to live an ordinary life. No fame. No impropriety. No pain. Then she meets Zachary Fox, a tattooed bad boy rocker with a voice like whiskey and sin, and a touch that could become an addiction.
A one-night stand with the hottest rock star on the planet, that's all it was meant to be…
Fox promises scorching heat and dangerous pleasure, coaxing Molly to extend their one-night stand into a one-month fling. After that, he'll be gone forever, his life never again intersecting with her own. Sex and sin and sensual indulgence, all with an expiration date. No ties, no regrets. Too late, Molly realizes it isn't only her body that's become addicted to Fox, but her heart…
Review:
I gotta say I was a bit disappointed in this novel. I usually LOVE Nalini Singh and I just didn't love this book. It was ok, the 2nd half better than the 1st but it was missing a lot of what usually makes up a Singh novel. Great in-depth characters and story. The book has two of my least favorite romance clichés, the insta-love and female virgin, although admittedly it didn't annoy me as much as it usually does. Molly our innocent virgin hops into bed with a hot rockstar probably within 30 mins of meeting him. He follows her into the elevator propositions her and off to her place they go. Now if I was a virgin and tired of being one I'd probably lose it to a hot rock star too if I had the chance but it was completely out of character for Molly. She tries to keep him at an arm distance and make it a one night stand but Fox knows before he even meets her that she's the one.
The first half is Molly and Fox falling into insta-love within a week and the push and pull of their relationship. Not much connection with the actual characters but the side characters become quite loveable very quickly. The second half of the book we start to connect with the Molly and Fox a bit more but I never really connect with them fully. We start to get more true emotion out of both of our characters whether it be love, jealously or lust. Overall, it's a decent book.. I'll continue with the series because I loved the side characters and the second half picked up.