Clean Sweep: Dina Demille and Sean Evans


(Innkeeper Chronicles #1)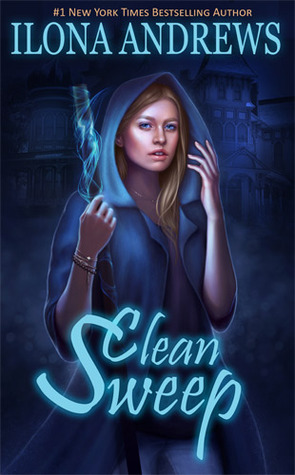 Clean Sweep on Amazon

Summary:
On the outside, Dina Demille is the epitome of normal. She runs a quaint Victorian Bed and Breakfast in a small Texas town, owns a Shih Tzu named Beast, and is a perfect neighbor, whose biggest problem should be what to serve her guests for breakfast. But Dina is...different: Her broom is a deadly weapon; her Inn is magic and thinks for itself. Meant to be a lodging for otherworldly visitors, the only permanent guest is a retired Galactic aristocrat who can't leave the grounds because she's responsible for the deaths of millions and someone might shoot her on sight. Under the circumstances, "normal" is a bit of a stretch for Dina.
And now, something with wicked claws and deepwater teeth has begun to hunt at night....Feeling responsible for her neighbors, Dina decides to get involved. Before long, she has to juggle dealing with the annoyingly attractive, ex-military, new neighbor, Sean Evans—an alpha-strain werewolf—and the equally arresting cosmic vampire soldier, Arland, while trying to keep her inn and its guests safe. But the enemy she's facing is unlike anything she's ever encountered before. It's smart, vicious, and lethal, and putting herself between this creature and her neighbors might just cost her everything.
Review:
I picked up Clean Sweep by Ilona Andrews because this is an Ilona Andrews novel and no other reason. I didn't even know what the book was about; I saw the author and grabbed it so it's a good thing this book didn't suck! I knew I could count on Ilona Andrews to deliver a solid novel and I was not left disappointed. The premise of this book ended up being very interesting. So basically Dina is an "Innkeeper" a supernatural with great powers tied to their Inns. They have some powers away from their Inn but they are quite powerful when within the boundaries of their Inn. Their Inn themselves are magic and are pretty cool; it can shift around to suit the Innkeepers needs or even the guest. It has all sorts of gadgets and weapons to protect the Innkeeper and mostly its guests. An inn is a sanctuary of sorts, beings of all sorts have safe passage while in an Inn and the Innkeepers tend to be neutral not getting involved unless the Inn or guest is endangered.
Dina is a new Innkeeper and a kick ass one at that. She took over an abandoned Inn in a small town in Texas, she has exactly one guest who has paid for a lifetime at the Inn. Everything is normal and boring until dogs start turning up dead so Dina turns to the local werewolf to fix it, after all it's his territory. Sean, does not appreciate this little bit of a "human" telling him what to do and tries to intimidate Dina. Sparks fly when Dina shows Sean that he can't bully her and they she has more than a couple of tricks up her sleeve. I really enjoyed Sean and Dina as they circle each other until the settle into a tentative truce. Sean shows off his muscle and Dina shows off her magic, it's a battle of stubborn wills and I'm not sure who won. LOL The action escalates in the small town when some vampires show up and get their asses handed to them and they take sanctuary in Dina's Inn and Dina is pulled further into a fight to protect her Inn and her guests. This fight while not originally hers she's making it hers and ending it! Add in a killer dog and a love triangle and you have all the makings of a great book/series! I'm already stalking Ilona's website for the next book…