No Quarter - Gar Stitt and Captain Faolan Wolf
(Bounty #1)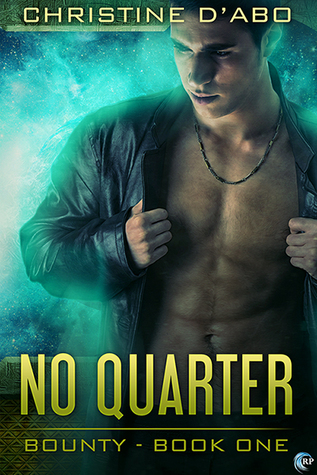 Summary:
When bounty hunter Gar Stitt is given a simple locate-and-retrieve mission, he's convinced it's a waste of his skills. His success rate is legendary, after all, and Captain Faolan Wolf isn't hard to find. He's the most notorious pirate in the galaxy, and when he shows up planetside to take his pleasures, he's far from subtle.
Faolan never expected a hot but tightly wound hunter to walk into his private party and try to apprehend him single-handedly. And when an unexpected betrayal forces them to work together, Faolan's even more surprised to find himself drawn to Gar personally—especially since neither of them do personal.
Gar had intended to put Faolan in prison. Instead he finds his solitary existence shaken by his desire for the pirate. And when the bounty hunter becomes the hunted, he must put his faith in Faolan and his pirate crew, or run the risk of ending up dead.
Review:
I haven't read a M/M book and a while and picked this one up as a rec from Sarah from
www.feelingfictional.com
. We both enjoy Christine D'Abo as a general rule and this one did not disappoint. I enjoyed it much more than I was expecting. Faolan was quite funny and loved messing up Gar's perfectly ordered routine. Gar likes structure and Faolan is getting into his life and messing everything up. It's taking Gar well out of his comfort zone but he can't seem to stay away from Faolan.
The sexual tension between these two is actually quite heated. In the beginning Gar is drugged by a sexual stimulant and of course Faolan is happy to offer up his services. They have approximately 3 days to enjoy each other's company before they reach Faolan's ship and they plan to make the most of it. When Gar is betrayed they team up and we embark on a crazy erotic trip across space.
It's a fairly short read but a very enjoyable one. Faolan and Gar have sizzling chemistry and endearing feelings towards one another. But their relationship has a time limit as all is not what it seems with Faolan. Find out what he is hiding and read this book!