The Highwayman
: Dorian Blackwell, the Blackheart of Ben More and Farah Leigh Mackenzie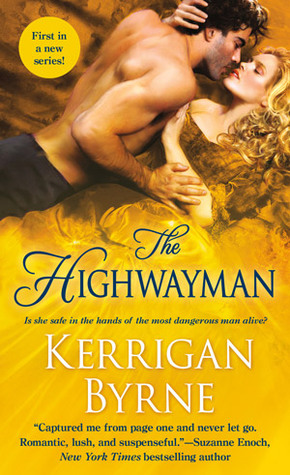 They're rebels, scoundrels, and blackguards—dark, dashing men on the wrong side of the law. But for the women who love them, a hint of danger only makes the heart beat faster…
Dorian Blackwell, the Blackheart of Ben More, is a ruthless villain. Scarred and hard-hearted, Dorian is one of London's wealthiest, most influential men who will stop at nothing to wreak vengeance on those who've wronged him…and will fight to the death to seize what he wants. The lovely, still innocent widow Farah Leigh Mackenzie is no exception—and soon Dorian whisks the beautiful lass away to his sanctuary in the wild Highlands…
But Farah is no one's puppet. She possesses a powerful secret—one that threatens her very life. When being held captive by Dorian proves to be the only way to keep Farah safe from those who would see her dead, Dorian makes Farah a scandalous proposition: marry him for protection in exchange for using her secret to help him exact revenge on his enemies. But what the Blackheart of Ben More never could have imagined is that Farah has terms of her own, igniting a tempestuous desire that consumes them both. Could it be that the woman he captured is the only one who can touch the black heart he'd long thought dead?
The Highwayman by Kerrigan Byrne is at turns, sweet, cute and heartbreaking. You run the full gamut of emotions in this book and it was fantastically done. I've been a fan of Kerrigan Byrne for a number of years, it all started with her historical paranormal novellas that I stumbled upon and I've been snapping up anything she's had to write ever since. So needless to say I was pretty excited to read this book. As with all of her other writing she creates a world and characters so clear you would think you were right there with them. This particular book starts when Farah is a small child and she pledges herself to her best friend and protector. Almost right after their "handfasting" they are attacked by a priest where they are living as orphans and her best friend is arrested for killing the priest. He later dies in prison but she never forgot her "husband".
It is years later and Dorian enters her life. He kidnaps her and convinces her to marry him as a part of a convoluted plan. Turns out, Dorian knew and was friends with her husband in prison which forges a bond of sorts between them. Dorian is super damaged, I'd say one of the more damaged characters I have read to date. He can't stand to be touched after everything has been done to him, which makes for an awkward arrangement with Farah. But over some time, he begins to let her in more and more and a trust builds. I think Dorian as a character will break your heart a little bit. Farah as a character may help to restore some of your faith in humanity because she is loyal to the core and has a backbone of steel. She does not take shit from Dorian or anyone else and has a way of shutting people up with just a look. These two shouldn't work, but for some reason they do and they'll worm their way into your heart.