Once Pure
: Killian O'Brien and Sofia Tres Santos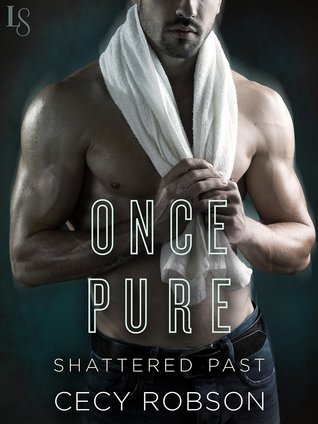 She bears the scars of the past. He blames himself for things he can't control. Their defenses are up, but in Cecy Robson's latest Shattered Past novel—perfect for fans of Monica Murphy and J. Lynn—true love lands a knockout punch.
Sofia Tres Santos remembers a time before her life went sour, before her innocence was ripped away, before she began punishing herself with risky behaviors and unworthy men. Now, at twenty, she just hopes she's ready to rebuild some of what she lost. One way or another, it always comes back to her childhood friend and longtime crush, Killian O'Brien.
As strong as Killian is, Sofia has always been his one weakness. He knows Sofia has suffered and wants to ensure she's never hurt again—not like before, and definitely not under his watch. When Sofia agrees to work at his mixed martial arts gym, Killian seizes the opportunity to help and protect the sweet girl he's always cared for. And yet, as he trains Sofia to defend herself using his hard-hitting MMA techniques, he's drawn to the vulnerable beauty in ways he never expected.
As Sofia grows stronger, she also grows brave enough to open herself up to love. And along the way, she challenges everything Killian believes to be true, showing him that no matter how much he dominates in the ring, the real battle is fought in the heart.
Once Pure is the third book in the Shattered Past series or one could even say the first book in the O'Brien's series; although, Once Kissed is officially the first book in that series. This book features Sofia and Killian who grew up together in the "old neighborhood". They were childhood playmates until Killian "grew up without" Sofia. We find out in Mateo's book that Sofia was raped when she was 14 years old and that changed everything. She was never what she viewed as "strong" not like Leti and Mateo but the rape made her disconnect even more. In the previous book, Sofia's dad is arrested and I think this changes something in Sofia. I became so proud of her by the end of the book, she grew so much. Little by little she found her backbone and her confidence. She is determined to not be a victim anymore and while she'll never be as feisty as Leti she definitely finds a stronger version of herself.
Killian I wasn't as proud of and Sofia calls him on this shit. He's hiding something from her.. A promise that he made. You can pretty much guess what it was since the first book in the series but it's more fleshed out in this book and I can see where a lot of the guilt comes from. I truly believe that Killian has loved Sofia as his family says "since before he got pubs" lol but I dont think he truly believes it until it's too late. He puts himself and Sofia through some pain before they can find their way back.
We meet more of the O'Brien clan, and I quite adore them, already, especially Wren and Finnie. I can't wait to see more of them in the coming books. They are just to loud, feisty and brash. Good times.