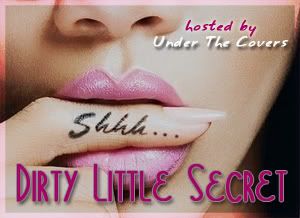 Dirty Little Secret
is a weekly meme hosted by us at Under the Covers. Every Thursday we get to know other bloggers and our readers more intimately by asking them a question hoping to reveal their dirty little secrets. We hope that you will all join us!
To participate in the meme all you need to do is:
1. Be a follower of Under the Covers.
2. Create a post in your blog taking the meme image (code above) and copy instructions.
3. Answer the question we propose! This can be done in any way you like, post a video, write a post etc.
4. Then add your link below.
Non-bloggers: We want to hear from you as well!!! Let us know your answer in the comments!
We hope you join us and let us know your
Dirty Little Secrets!
This week's question:
"With so many great books out and about, are you bookcases super organized or are your books scattered all over the place? We'll show you ours, now show us yours"
My Answer:
All over the damn place!! I love in about 650 sq feet so I don't have much room. It's one of the reasons I switched to eBooks.
Take a gander at my mess!
Ok so the first pic is from my entertainment center, you can see these books from the couch and some of my only exposed books.
The Second pic is my loot from RWA signing, those are all signed books. I need to figure out where to put them so for now they on my my desk.
The third and fourth pics are in enclosed shelves that are under my windows, so it's kind of like a bench seating under a window. Not that I would ever actually sit there.
The fifth is a pile of books I need to send back to my friend Dawn. Dawn if you read this I promise I'll get them to you soon! Oh and the Lydia Dare book is your signed copy. Told you I got it. LOL!!
And lastly those are my two Kindles. Yes, two, who the hell needs two Kindles?! I guess I do. HAHA
So did you enjoy my mess?