Immortals After Dark Series:
Book 14:
Dark Skye: Thronos, Lord of Skye Hall and Lanthe, Queen of Persuasion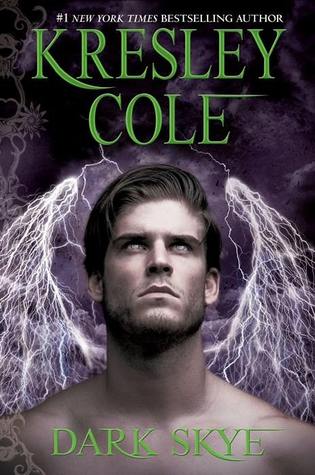 Goodreads
Amazon
Expected publication: August 5th 2014
Summary:
From Goodreads.com
Eternal Obsession
As a boy, Thronos, Lord of Skye Hall, loved Lanthe, a mischievous Sorceri girl who made him question everything about his Vrekener clan. But when the two got caught in the middle of their families' war, tragedy struck, leaving Thronos and Lanthe bitter enemies. Though centuries have passed, nothing can cool his seething need for the beautiful enchantress who scarred his body - and left an even deeper impression on his soul.
Endless Yearning
Lanthe, a once-formidable sorceress struggling to reclaim her gifts, searches for love and acceptance with all the wrong immortal suitors. But she's never forgotten Thronos, the magnificent silver-eyed boy who protected her until she was ripped from the shelter of his arms. One harrowing night changed everything between them. Now he's a notorious warlord with a blood vendetta against Lanthe, hunting her relentlessly.
Can the heat of desire burn brighter than vengeance?
With their families locked in conflict and battles raging all around them, will Thronos and Lanthe succumb to the brutal chaos that threatens everything they cherish? Or will the fragile bond they formed so long ago spark a passion strong enough to withstand even the darkest doubts?
Review:
So I'm writing my first review in many a months, so I may be a bit rusty so bear with me. I'm a huge fan of Kresley Cole and that is no secret. The Immortals After Dark series is my all-time favorite series and Dark Skye is although not my favorite book in the series it a great installment. Kresley Cole never fails to impress her characters are rich, full of life and funny. Her world building is some of the best; she creates a rich world called the Lore with all the crazy beings that belong in it. This book is rich in visits from other Lore beings, we get a broader scope of what the Lore is all about. We get visits from some old favorites and glimpses of stories to come. Nix of course plays a part in the books and will definitely drop some stuff on the reader, some things you don't want to miss. We may or may not find something and her status may be upgraded. You'll have to read to see.
Dark Skye is a long awaited installment within the IAD series. Fans of the series have been waiting years to get Lanthe and Thronos story; we first met these two in Sabine and Rydstroms story. Once childhood friends, chosen by fate, these two have a dark, blood soaked history. After the deaths of both of their parents Lanthe and Sabine went on the run and Thronos was compelled to hunt Lanthe. Tragedy after tragedy struck and these once best friends were bitter enemies. 500 years later they are both captured and held in a facility with other immortals, when all hell breaks loose Thronos finally has his shot at Lanthe, but fate has its own ideas.
Lanthe comes into her own in this book, while she's always been a bit wild she has always been overshadowed by her powerful sister. Lanthe comes into her own badassness in this book. She is consistently in danger and she and Thronos are thrown into the unknown over and over. She finds her inner sorceress and strength as it turns out she can be a fierce! Thronos is an unexpected surprise! I wasn't sure what to expect from him but I must say he ends up being one sexy, alpha, virgin male. Kresley Cole writes THE BEST male virgin characters, and I am a SUCKER for them. Thronos is just one more to add to this list. He may be inexperienced but he is creative and man oh man those wings! Just one more thing I am a sucker over. Cole throws these two into obstacle after obstacle but the biggest things these two must overcome are their pasts…
Rating:
*This copy was provided to me by the publisher for an honest review. No other compensation was provided.