Twisted: Drew and Kate
(Tangled #2)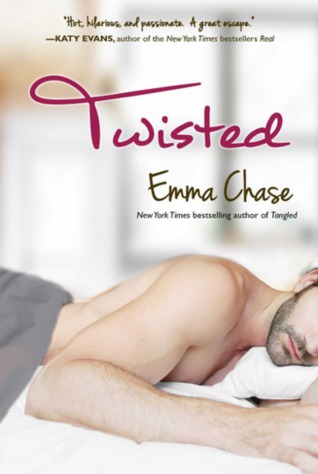 Summary :
From Goodreads.com
There are two kinds of people in the world. The ones who look first, and the ones who leap. I've always been more of a looker. Cautious. A planner. That changed after I met Drew Evans. He was so persistent. So sure of himself – and of me.
But not all love stories end happily ever after. Did you think Drew and I were going to ride off into the sunset? Join the club. Now I have to make a choice, the most important of my life. Drew already made his –in fact, he tried to decide for the both of us. But you know that's just not my style. So I came back to Greenville. Alone. Well, sort of alone....
What I've come to realize is that old habits die hard and sometimes you have to go back to where you began, before you can move ahead.
Review:
Guest review by Tina
"Life isn't perfect. Or predictable. Don't expect it to be.
One minute you're swimming along in the ocean. The water's smooth and calm; you're relaxed. And then - out of nowhere - an undertow sucks you down.
It's what you do next that counts."
- Drew Evans
This was a tough book for me to rate. I really struggled between 3 and 4 fours for a few days, but ultimately decided that the good parts stuck with me more than the not so good. Hence, the four star rating. If I thought Twisted was hard to rate, it's even harder to review. At least, to review without giving the entire plot away, that is. Ah, well. Here goes nothing.
Twisted picks up two years after Tangled ends. Drew and Kate are going strong, enjoying their life together, and if the opening scene in Twisted is anything to go by, it's been a pretty hot and steamy two years. If you're picking up Twisted expecting another Tangled, you can stop right there. First off, Twisted is told from Kate's POV. I have to admit to being a little apprehensive about that. I mean, come on, Drew is kind of what made Tangled so awesome, amiright? I have to say though, I wasn't annoyed by her. Kate has her insecurities and she's certainly picked up a fair amount of Drew-ism's over the last two years, but she holds her own. Minus a few stumbles here and there, of course. Second, this is not the light-hearted romp that was Tangled. I can't say too much without giving some major plot points away, but I think the quote at the start of the review will give you a good idea of what's to come.
One of the big issues for me with Twisted, the main point that had me waffling between cheering Kate on and wanting to smack everyone in the book upside the head, was that "The Big Misunderstanding" trope features heavily here. Like, for almost the entire book, really. At first, it wasn't so bad, but the longer it went on and the more characters got involved, the more irritating it got, for me. It was a struggle. Luckily, Kate and the amazing characters we grew to love in Tangled were enough to keep things from getting too frustrating. Dee Dee aka Delores is absolutely hilarious and her parts definitely got me excited to read their coming book.
Drew is....Drew. Good and of course, bad. Though, I wanted to boink both their heads together throughout most of Twisted (mostly Drews, to be honest) he ended up being the thing that stuck with me long after I finished and helping to erase all my prior frustration with...well, everyone. The resolution of Twisted was fantastic, heartwarming and made the entire struggle worth it.
All in all, I really enjoyed Twisted and I'm looking forward to further books in the Tangled family from Emma Chase. Anyone who's read Tangled is going to want to pick this one up and for those who haven't yet read it *ahem* I'm lookin' at you, QoA *ahem* you should get on that. Like, yesterday.
(this book was provided in exchange for an honest review)