Windburn: Lorian Nightwing and Sorcha Linden
(Nightwing #2)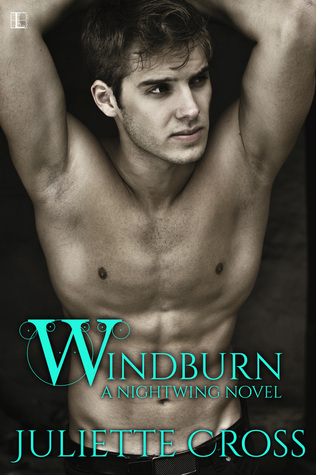 Summary:
From Goodreads.com
No man can win her heart—until now…
In the Gladium Province, the boundaries between humans and Morgons, the dragon-hybrid race, continue to blur as a new generation surrenders to long-forbidden temptation…
Sorcha Linden does whatever she wants whenever she wants, and no one can stop her. Least of all a man. After all, they're good for only one thing—warming her bed. But then she meets Lorian Nightwing, brother of Lucius. Seductive and iron-willed, he is determined to melt her emotional defenses—and warm her rebellious heart.
The beast within Lorian longs to cage Sorcha and mark her as his own. Forever. Yet the man within also longs to protect her. When a stalker starts leaving Sorcha suggestive gifts with cryptic messages bearing an ancient blood cult symbol, Lorian's dragon side takes over. With her life at stake, Sorcha can no longer deny the love they share. But when evil tracks her into the night, will she be too late to claim it?
Review:
Ok bear with me, I read this book a long time ago and I'm trying to catch up on my reviews so this one may not be the best. Oops.
This was a good quick read. I didn't read the first book, so the world was new to me but I picked it up pretty quickly. Sorcha is a spit fire, she does what she wants, when she wants and doesn't care what people think of her and is open and honest about it. Lorian is her opposite, he is stoic and serious, but you know what they say about opposites attracting. Sorcha leads Lorian on a merry chase but he is one determined man, he decides that he wants Sorcha and nothing will get in his way.. Including Sorcha and she is determined to get in his way! When Sorcha's life is in danger Lorian makes it his business to find out who is threatening her and to protect her at all costs. I really liked the chase these two went through it was fun, thrilling and the chemistry was hot! There were some good action scenes which adds to the excitement. I've been meaning to pick the rest of the books in this series because it was a good read. Writing this review reminded me of it so I'll have to get back on track!