Burn for Me: Nevada Baylor and Connor "Mad" Rogan
(Hidden Legacy #1)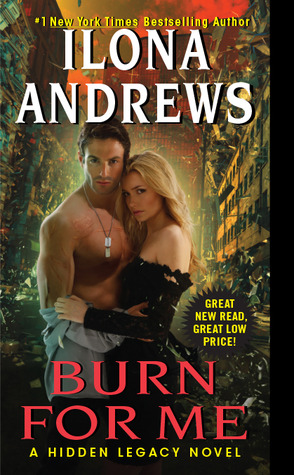 Burn for Me (Hidden Legacy) on Amazon

Summary:
From Goodreads.com
Nevada Baylor is faced with the most challenging case of her detective career—a suicide mission to bring in a suspect in a volatile case. Nevada isn't sure she has the chops. Her quarry is a Prime, the highest rank of magic user, who can set anyone and anything on fire.
Then she's kidnapped by Connor "Mad" Rogan—a darkly tempting billionaire with equally devastating powers. Torn between wanting to run or surrender to their overwhelming attraction, Nevada must join forces with Rogan to stay alive.
Rogan's after the same target, so he needs Nevada. But she's getting under his skin, making him care about someone other than himself for a change. And, as Rogan has learned, love can be as perilous as death, especially in the magic world.
Review:
I can't believe I never reviewed this book! It seems impossible because I've read the book at least 5 times since it was published.. I LOVED this book! Like loved, loved, loved this book. I think I read it 2 times back to back because I wasn't ready to let it go and needed another fix, like an addiction! Going into the book I wasn't sure if I would like it based on the description Ilona Andrews provided for the series when they first came up with the concept and said they were working on it, but I kept my faith in Ilona Andrews and trusted they would not let me know and boy did they ever deliver.
Fans of the kate Daniels series, if you are looking for A KD spinoff this is NOT it, the only similarities with this series and KD's is there is magic in the world and the characters are still bad ass! This is a whole new world with a whole new set of challenges. Ilona is a master at world building, this world really comes alive from the pages, it's so clear and in-depth. It's a complex world with magic infused in everything but I had no problems picking it up. Right from the beginning you are pulled into the story with plenty of action. Nevada has a small time detective agency and is pulled in for a big time case that she can't afford to lose. If she loses two probably outcomes: 1. She loses her business 2. She dies and her family still loses the business. These are NOT options and Nevada has worked too hard for too long to lose everything. The case becomes more complicated when the enigmatic Mad Rogan gets involved. There is an immediate attraction but that is dosed when Mad Rogan kidnaps Nevada and chains her to his basement floor, but unfortunately for Nevada if she wants to crack this case she had to work with Mad. Without him she will fail in her case and the entire city may go up in smoke. There is too much to lose.
The dynamic between Nevada and Mad Rogan is highly combustible, one minute they are fighting and the next working together as a cohesive team. There is so much sexual tension between these two it's about as hot as one of Adams fires! And since Adam can level an entire city with one of his fires I'd say that's pretty damn hot. I cannot wait for White Hot and am trying to wait patiently but so far it hasn't been going so well. Lol. If you haven't picked up this series, I would highly recommend doing so. I think this book is even on sale with Amazon at $1.99 or something like that.