Bound by Night: Riker and Nicole Martin
(MoonBound Clan Vampires #1)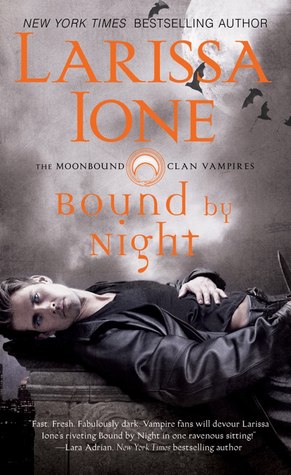 Bound by Night on Amazon
Summary:
From Goodreads.com
A WOMAN OUT FOR BLOOD
Nicole Martin was only eight years old when the vampire slaves rose up in rebellion and killed her family. Now she devotes her life to finding a vaccine against vampirism, hoping to wipe out her memories—along with every bloodsucker on the planet. But there's one thing she cannot destroy: her searing, undeniable attraction for the one man she should hate and fear the most . . .
A VAMPIRE OUT FOR REVENGE
A member of the renegade vampire MoonBound Clan, Riker is haunted by demons of his own. When he recognizes Nicole and remembers how her family enslaved his loved ones, his heart burns for vengeance. But when he kidnaps Nicole and holds her in a secret lair, his mortal enemy becomes his soul obsession, his greatest temptation, and, perhaps, his only salvation—a hot-blooded lover who could heal him with her touch . . . or bury him forever.
Review:
Bound by Night by Larissa Ione is the first in a brand new series featuring vampires. This book was a good opening to this series, we get a crash course into this world where the humans have taken vampires as slaves and few vampires live in clans as free vampires. The worst of the humans to the vampires are the Martin family. With their company they have killed and oppressed more vampires than any other. Now on the brink of war with a neighboring clan the MoonBound clan needs an insider and Nicole will have to do. Riker kidnaps Nicole, so that she could release their vampire who had been taken by her company.
The story and the world are interesting. The vampire clan's origins begin in Native American history which adds an interesting twist to vampires as a genre. We get bits of legend and lore with how Vampires came to exist and this is definitely a new version on the origins of vampires and I got to say I like it. It brings an interesting element into the mix. All of the characters are interesting and I quite enjoyed all of them. As individual characters I liked both Riker and Nicole. Riker is a hard headed alpha male; he holds a lot of guilt in how his mate died 20 years ago. For 20 years he's been holding onto his guilt and lusting for revenge against anything Martin. He's in turns angry and sexy, all brooding, but in turns sweet. Nicole is pretty feisty, she's intelligent, she makes her own decisions and she knows that things are not adding up in her world and she wants answers as much as she wants to get that vampire back. Each character is flawed in a good way. They are likeable and go through their own personal journeys.
As a couple, for most of the book I wasn't really buying the romance. I don't know what was missing, I really don't, but for about 75% of the book I wasn't really feeling the love between these two. I felt the attraction, which was obvious and real, but deeper than that I wasn't feeling it. It wasn't until pretty much the end that it felt like there was some real love going on and not just lust. While I wasn't necessarily feeling the love, I was feeling the story. It was interesting and action packed a lot goes on and keeps everything moving fast paced. We get a loaded ending that promises to be a doozy and really sets up the next book, which I have to admit I am already looking forward to it.