Reap by Tillie Cole
(Scarred Souls #2) - Talia Tolstaia and Zaal Kostava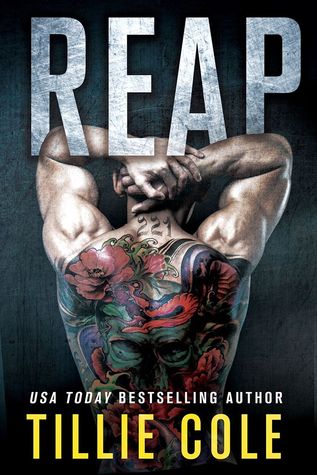 Summary:
Raised as a prototype for the Georgian Bratva's obedience drug, 221 fails to think, act, or live for himself; he's his master's perfectly-crafted killing puppet. Standing at six-foot-six, weighing two-hundred-and-fifty pounds, and unrivaled in to-the-death combat, 221 successfully secures business for the Georgian Mafiya Boss of NYC, who rules the dark world of the criminal underground. Until his enemies capture him.
Talia Tolstaia dreams to break from the heavy clutches of Bratva life. She dreams of another life--away from the stifling leash of her Russian Bratva Boss father and from the brutality of her work at The Dungeon, her criminal family's underground death-match enterprise. But when she stumbles upon her family's captive who is more monster than man, she starts to see the man underneath. A powerful, beautiful, damaged man whose heart calls to hers. But sacrifices must be made--blood for blood...life for life...souls for scarred souls...
Review:
Im DNFing this book at 62%. I don't think I have ever DNFed a book this late in the game but I'm just totally over it, and it took me weeks to get this far. The best part of the entire book is when Zaal says "You are...for me?" but one line no matter how many times it is said does not make an entire book. I have no emotional connection to either of the characters. I think I could have had one to Zaal but Thalia is blocking us from getting to know him. She's blocking him from getting to know him. She knows some details of his life before the mater but any time he asks about it she distracts him with a kiss which of course leads to sex. Thalia just seems to be a spoiled mafia princess without much substance. I gave up on this book when I read the following passage.. This passage basically summed up the entire book for me.
"She never talked about her life with me. She never told me anything. I realized that since she freed me from the basement we hadn't talked much at all. We had fucked. I'd held her in my arms, but not much else."
With that one passage I knew I was done. We are over 60% through the book and there is no substance, one dimensional characters, unbelievable insta-love, a lagging plot line and I can't even say the sex scenes were all that hot because they lacked an emotional connection between the two characters. And I swear to jeebuz if Thalia clenched her thighs one more time in this damn book I was going to shoot them so she could never clench them again! All in all, this book does not live up to its awesome cover. I'm seriously shocked by all of the 4 and 5 stars on this book but to each their own I guess. This isn't the first time I've wondered if I was reading the same book as everyone else and I'm sure it won't be the last.
*Review copy provided for an honest review. No other compensation was provided.