The Dirt on Ninth Grave by Darynda Jones
(Charley Davidson #9) – Charley Davidson AKA Janey Doerr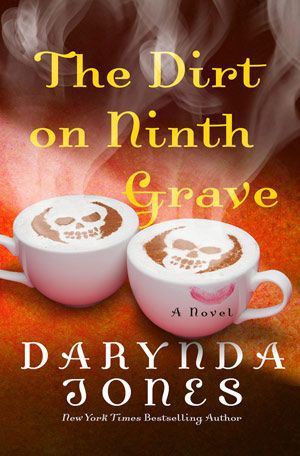 The Dirt on Ninth Grave on Amazon

Expected publication: January 12th 2016
Summary:
In a small village in New York lives Jane Doe, a girl with no memory of who she is or where she came from. So when she is working at a diner and slowly begins to realize she can see dead people, she's more than a little taken aback. Stranger still are the people entering her life. They seem to know things about her. Things they hide with lies and half-truths. Soon, she senses something far darker. A force that wants to cause her harm, she is sure of it. Her saving grace comes in the form of a new friend she feels she can confide in and the fry cook, a devastatingly handsome man whose smile is breathtaking and touch is scalding. He stays close, and she almost feels safe with him around.
But no one can outrun their past, and the more lies that swirl around her—even from her new and trusted friends—the more disoriented she becomes, until she is confronted by a man who claims to have been sent to kill her. Sent by the darkest force in the universe. A force that absolutely will not stop until she is dead. Thankfully, she has a Rottweiler. But that doesn't help in her quest to find her identity and recover what she's lost. That will take all her courage and a touch of the power she feels flowing like electricity through her veins. She almost feels sorry for him. The devil in blue jeans. The disarming fry cook who lies with every breath he takes. She will get to the bottom of what he knows if it kills her. Or him. Either way.
Review:
This book takes pace one month after EIGHTH GRAVE AFTER DARK, Charley has literally exploded into the air and reformed in Sleepy Hallow New York outside of a diner. When Charley awakens she has no memory of who she is and realizes quite quickly that she sees things that others can't. Charley takes on the name Janey Doerr for lack of another one. Of course the gang is not going to let Charley go it alone and they pretty much infiltrate the diner Charley starts working at. They don't tell Charley who she is and they hope that she will come to it on her own but time is running out.
For me, I just didn't enjoy this version of Charley as much as I enjoy the Charley that remembers who she is. Everything just seemed to be less. She wasn't quite as snarky; although, most does remain intact. She is more timid and doesn't embrace the departed like we are used to. That doesn't mean that Charley doesn't manage to find plently of trouble on her own anyway, because I don't think losing her memory could ever change that. And throughout the book, it just seemed like not telling her was more of a hindrance then telling her. Charley was confused , lonely and didn't understand what was going on around her. I think if they had at least told her she could have come to terms quicker or would at least be less confused and timid. Just my humble opinion. Don't get me wrong, the book was still very entertaining and I enjoyed it very much, I was just expecting more.

*Review copy provided for an honest review, no other compensation was given.