Allegiance of Honor by Nalini Singh
(Psy-Changeling #15)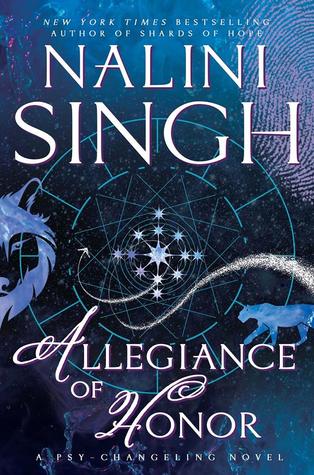 Release Date: June 14th 2016
Summary:
Goodreads.com
The Psy-Changeling world has undergone a staggering transformation and now stands at a crossroads. The Trinity Accord promises a new era of cooperation between disparate races and groups. It is a beacon of hope held together by many hands: Old enemies. New allies. Wary loners.
But a century of distrust and suspicion can't be so easily forgotten and threatens to shatter Trinity from within at any moment. As rival members vie for dominance, chaos and evil gather in the shadows and a kidnapped woman's cry for help washes up in San Francisco, while the Consortium turns its murderous gaze toward a child who is the embodiment of change, of love, of piercing hope: A child who is both Psy…and changeling.
To find the lost, protect the vulnerable—and save Trinity—no one can stand alone. This is a time of loyalty across divisions, of bonds woven into the heart and the soul, of heroes known and unknown standing back to back and holding the line. But is an allegiance of honor even possible with traitors lurking in their midst?
Review:
Absolutely LOVED this book! This book isn't about one particular couple but basically a recap of all of the previous couples as we end this Arc and move into a new one. And we get at least a brief glimpse of all of them. I'd say the most predominate couple in the book that we revisit would be Lucas and Sasha, mainly because of Naya and it's great to see them again. Naya is too cute for words! She's the first Psy-Changling born since Silence and as such she is a symbol of a new world so there is a lot of interest in her and some of it is not good as we learn in this book. Overall, this book just leaves us in a mostly happy place as we revisit the characters and see that they are doing well and bonds are being built across all three races. And the PubCups! They arrive in this book! YAY!! Im not telling how many, if they are wolf or leopard or their sexes. You'll just have to read to find out.
Over the last 14 books I don't think I really realized how much plotting she had to have done and how far she had to have seen into the future of this series. After I read this book I had to go back and re-read most of the series and the little bits and pieces came together, tiny things that pop back up into this book and along the whole series. I was super impressed with how it all came together.
Singh has said that this Arc is closing and a new one is starting, like a new chapter in the same book. I am interested to see where we are going with this but to be honest it doesn't seem to be all the different from the previous arc. The psy-net is still in trouble and we have the Consortium now instead of the Council, but whatev's even if it was the exact same theme with new couples I'm pretty sure I'd still love it. I know whatever Singh throws our way it'll be good. All in all, again.. LOVED it and can't wait for the next book in the series!