Once Perfect: Mateo Tres Santos and
Evelyn Preston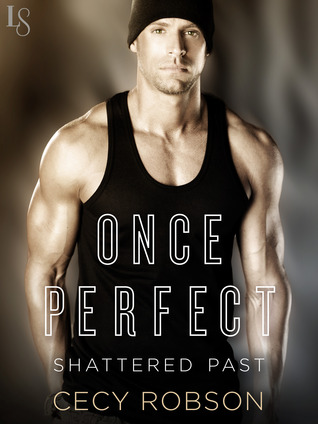 His life was never easy. Hers wasn't supposed to be this hard. They come from different worlds, but fate lures them together in a way neither expected in Cecy Robson's raw, steamy New Adult debut—perfect for fans of Monica Murphy and J. Lynn.
Evelyn Preston's future once looked perfect—until her wealthy father was caught in an embezzlement scandal and took his own life. Alone and struggling to pay her college tuition and bills, Evelyn finds a job as a waitress at the ultra-hip nightclub Excess, where she used to have more in common with the privileged private-school clientele than her fellow staff members. But something attracts her to the sexy six-foot-four bouncer and underground MMA fighter Mateo Tres Santos. Although they've led different lives, their troubled pasts bonds them in both survival and love.
Mateo is ex-army who wound up in prison for assaulting the man who harmed his sister. Now he's feeling the same protective impulse for this petite blond waitress. When Evelyn experiences a panic attack at the club, Mateo comes to her rescue. And when Mateo is wounded shielding her from a brawl, Evelyn returns the favor and comes to his aid.
As their attraction intensifies, Mateo is determined to find out what nightmares are lurking in Evelyn's past—even if that means tackling his own to save her.
I am on a roll and just devouring these books. I just started the series this past weekend and Im already on the first book in the O'Brien series.
This particular book, I liked both characters. Teo is a fierce protector. He's had to protect his mom and sisters from his abusive dad all of his life. He did a stint in jail for assault against the male who raped his baby sister and is now a bouncer at the club where Evelyn works. He almost messes everything up because he can't get past his past but him and Evie figure it out in the end. Evie, used to be rich, now she's poor. Some things with Evie I dont think get properly explained I feel like. In the beginning she is terrified of the dark, but that just seemed to magically go away or just never gets discussed again really past like the first 20%. And there is stuff with her family and how she doesn't get anything including the proceeds from the sale of her family home. I feel like there were a couple of other small things but after a binge read they are all just kind of blending together. lol
Overall, I liked the book but I just felt like there were some things to take the book from ok/good to great.
*Review copy was provided for an honest review, no other compensation was provided.