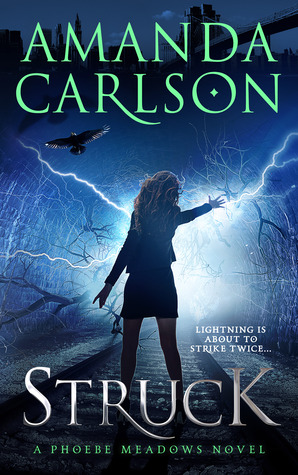 When Phoebe Meadows gets struck by a strange light in the stockroom of Macy's, life as she knows it flies out the window. As if being hit by lightning isn't bad enough, she's accosted in the subway by a man with a missing hand, arrives home to find a raven on her kitchen counter, and her neighbor, Ingrid, shows up dressed like a gladiator hell-bent on protecting her.
Before Ingrid can shuttle her to safety, Phoebe is kidnapped and tossed into one of the Nine Worlds where she's quickly forced to come to terms with what she is: A valkyrie. The only problem is, she has no idea what that means.
After a narrow escape, she finds an unlikely ally in Loki's son, Fenrir. Together the valkyrie and the wolf must battle their way back to New York City and reach the valkyrie stronghold where Ingrid is waiting for her. But with danger and obstacles at every turn, she might not live long enough to learn the full truth about who and what she really is…
So the first half of the book im not sure I was feeling too much. Lots of action but the dialogue was killing it for me. It was kind of ... cheesy?? Not sure thats even the right word for it. But it didnt feel like a real conversation. Little by little tho I got more into the book and by the end I chugging along.
There is some insta-love going on that I dont really buy but I did really like Fen. He is strong, loyal and willing to throw down even if he's battling full gods unlike his demi-god status. I liked the best friend (I can't remember her name) but she was funny and really rolled with whatever was going down. I could easily imagine her as a Valkyrie. I liked her more than the main character and im kind of hoping for a match with Tyr for her. I also liked Tyr, he doesn't talk much but he definitely has a presence as the God of war.
There is plenty of action in this book there is always peril around the corner as Phoebe and crew fight to stay alive. We travel between realms popping up all over the place which is pretty fun. There is a lot going on and I think that a lot of people will enjoy this book. I'm somewhat curious to see how this all turns out but all in all its not a very memorable book it doesn't stick out among other UF titles and I'm not sure that I'll even remember to pick up the second title when it comes out. But it was a decent read and if I remember, I would read the next book in the series.
**Review copy was provided for an honest review. No other compensation was provided.