World Huntress Series:
Eternal Kiss of Darkness: Mencheres and Kira Graceling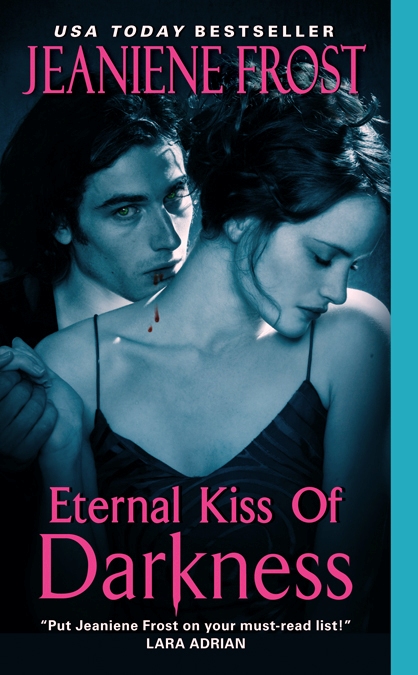 Mencheres was ready to end it all, after over 4000 years of existence he was ready to move past this world into the next. All of his visions showed nothing but a black void and he knows his time is up. One night Mencheres attacked by some ghouls and they were in the middle of ripping into him when a young human woman risks her life to save his. Kira rushes into an old abandoned warehouse where she could hear sounds of an attack, despite all good judgment she rushes into the warehouse. What she sees is impossible! The ghouls attack Kira and she is on the verge of death, Mencheres knows he has to save her so he scoops her up feeds her some of his blood and takes her to his house. When Mencheres tries to erase her memories he realizes he can't get into her head, not sure what to do he decides to keep her in residence a bit longer. Kira is having a hard time wrapping her head around the fact that there are vampires, ghouls and other things that go bump I the night. Kira doesn't like that she is being held at Mencheres's house but she finds herself not minding the company all that much. Finally Mencheres realizes that he can no longer keep Kira against her will and takes her back to the human world with knowledge of all the things she should know nothing about. Even after Kira is gone, Mencheres knows he should be paying more attention to the threat of his arch nemesis that is hanging over his head, but he finds himself following Kira around instead. Kira can't get Mencheres out of her head, one night in her attempt to find him she stumbles upon more vampires that take and start torturing her, in desperation she gives Mencheres name. When Mencheres arrives Kira is not in good shape, but is he too late?
You really cannot go wrong with a J. Frost novel. Frost knows how to pull you into a novel and not let you go until you have reached the conclusion. Throughout the Night Huntress series I found Mencheres intriguing, and I am so glad he got his own novel. Mencheres is a complicated character; he is over 4000 years old and probably the most powerful vampire in existence. Mencheres has made a lot of hard decisions that he wasn't necessarily proud of, several of which hurt people he cared about. He is tired of life and his guilt is eating at him. Kira is his perfect counterpart. She believes in him and helps him realize that his decisions in the bigger picture and in the long term were the best and everyone makes mistakes; but more than that she gives him a reason to live. Kira is incredibly resilient she takes everything that is thrown at her and tries to make the best of any given situation. She is a strong capable woman! Oh and you get to see a lot of my man Vlad which is an extra bonus for me in this novel! Remember I called him, he's my book boyfriend! LOL!