Mercy Thompson Series:
Moon Called: Mercy Thompson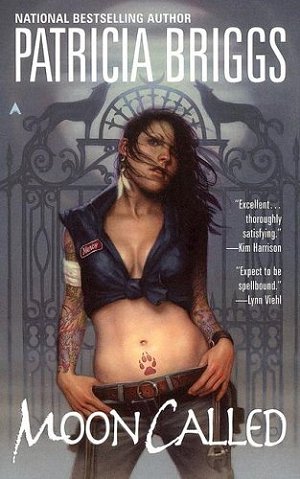 "Moon Called

is the beginning of the story of Mercedes Thompson a coyote shapeshifter who is also a pretty decent mechanic. Mercy's world looks a lot like ours except that the Otherworld is beginning to be forced out of hiding by our modern technologies. Mercy shares her back fence with the local Alpha werewolf and works evenings on the vampire Stefan's VW bus. She's safe and content…" from patriciabriggs.com
Summary:
Until a teenager shows up at her garage looking for a job, Mercy has managed to stay out of all Underworld business except Adam the Alpha Werewolf who is her neighbor and Zee her former boss and apart of the "out" Fae. Now she has a teenage werewolf looking for a job, with shadows in his eyes. When military looking werewolves show up at her garage a few days later she realizes she can no longer keep her nose out of the werewolf business and is going to have to get involved. Mercy is brought smack dab in the middle of very dangerous business, werewolves are being killed, the Alpha attacked, his daughter kidnapped and an old boyfriend, and here she thought her life was boring, now everything is different.
Patricia Briggs pulls you in right from the beginning. Mercy is a take no ish, coyote in a world of beings that are far more powerful than her, but she manages to hold her own. In this book you meet all the supporting character you will come to love throughout the series. Adam the sexy Alpha, Stefan the VW bus driving vampire, Zee the Gremlin Fae, Warren Mercy's best friend and member of the local werewolf pack, Jessie is Adam's teenage daughter, and Samuel Mercy's first love who broke her heart and son of the Murrok. This novel is a great start to the series it sets up its world without information overload and the action starts right away. You are not going to be bored with this novel and will want to continue on with the series right away!