Archangel's Blade: Dmitri and Honor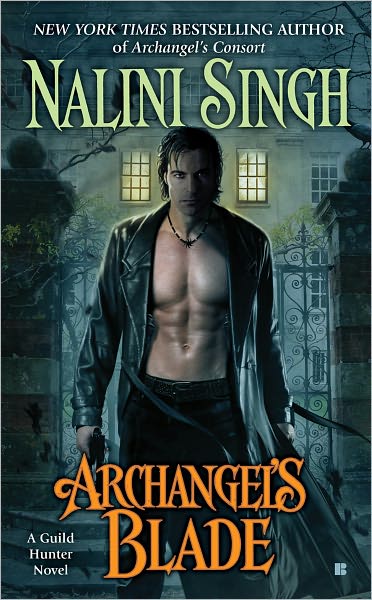 Dmitri has lived close to 1000 years, enough time to ensure he has plenty of enemies. You don't get to his position of power as one of the most powerful Archangels Second without collecting a few. Now one of those enemies is closing in on Dmitri and he needs the skill of a Guild Hunter. The last thing Honor wants to do is consult for a vampire, she is barely holding onto her sanity as it is after being brutally tortured by several vampires for months. She was lucky to come out of the torture alive, let alone with her mind fully intact. She knows she is not ready to face the most brutal vampire in the United States but when she arrives at the tower she finds herself as intrigued by the man she has seen from afar over the years as she is frightened by him. Dmitri finds himself drawn to this scared, but strong woman more than any other woman in the past 1000 years. She stirs emotions in him that he thought long dead, but he knows this woman will end up in his bed one way or another. Once Honor meets holds her own with this sinfully sensual but deadly vampire she realizes she is stronger than she thought, and is now determined to reclaim her life. Dmitri knows exactly what Honor is feeling and knows exactly what she needs, Vengeance, and he decides he is just the man to help her claim it, but in the process with Honor claim more than her Vengeance and claim

Dmitri's heart?
I am so glad that N. Singh decided to branch off and start tackling some of Raphael's Seven! Although, I like Elena and Raphael I was ready to move on. His Seven have intrigued me from the beginning. Although, Jason and Venom are my two favorites so far, I have always liked Dmitri. After this book I went from liking Dmitri to loving Dmitri. I loved the way he handles Honor and helps to give her, her life back and just sticks with her through it all, even after her several stabbings. I mean come on, what man sticks with a chick after she stabs him a couple of times? Not man, so you got to love Dmitri for that alone. I loved Honor from the beginning, following her from being clearly scared out of her mind to finding a deep strength she didn't even know she had. She has been brutalized in the worst sort of way, but finds her strength and even has the presence of mind to help soothe Dmitri. Together these two come a long way emotionally. You also get more glimpses of supporting characters. Ashwini is featured more and she is my favorite Guild Hunter, I so cannot wait for her and Janvier's book! I hope it's not a novella but a full length. And I have a feeling about a Venom/Sorrow pairing. There are lots going on in this book so you won't get bored! I think this is my favorite of the Guild Hunter books so far.