Forevermore - St. John Evernight and Miss Layla Starling
(Darkest London #7)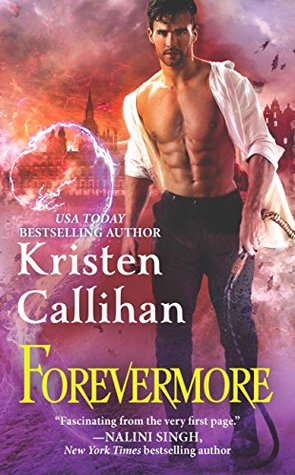 Summary:
Goodreads.com
Miss Layla Starling, the young, beautiful, and extremely wealthy heiress, is the talk of London. Until now, she's managed to evade the marriage noose. Despite the fact that she is unfortunately American, she's received a staggering number of offers. And turned down every one. St. John Evernight does not want to admit the relief he feels every time he hears that she has rejected one of her suitors. Which is unfair of him. Layla deserves to be happy. But he can not offer her happiness. He will never be normal, never be anything but a freak in her world. So St. John resolves to keep his distance, until he is recruited by the Society for the Suppression of Supernaturals to guard Layla. For she is in grave danger, and he is about to learn the full extent of his powers.
Review:
I am sad this is the last book in this wonderful series, it's been one of my favorites since I first took a change on Firelight all those years ago. Callihan is a master of her craft; she weaves wonderful tales blending the supernatural with the historical. I'd say she is at the top of her genre and I hope that while this series is done she continues with another historical paranormal series.
My heart broke a little bit for Sin.. pobrecito. I really enjoyed his character would have liked to see more of his powers. I dont feel like we really got to see him go full out with them. But he was so cute with Layla and protective. I really love how they fell in love as teenagers and it withstood the test of time and life.
Layla was pretty awesome. She was fierce and she knew what she wanted (Sin) and she was not taking no for an answer. She knew he was for her and she went about getting him. i loved when she dragged Sin out to get some practical experience showed she was not willing to be a victim or let a man protect her when she could do it herself. In the end she was kicking some serious ass and I was quite proud of her.
We caught up a bit with past characters and got to see them end in a good place which is always nice since this is the last book in this series and I dont think there are any plans for a spin off. I'll be sad to leave this world but I know the characters are in a good place... =)
**Title provided through Netgalley for an honest review. No other compensation provided.