Night Huntress Series:
One Grave At A Time: Cat and Bones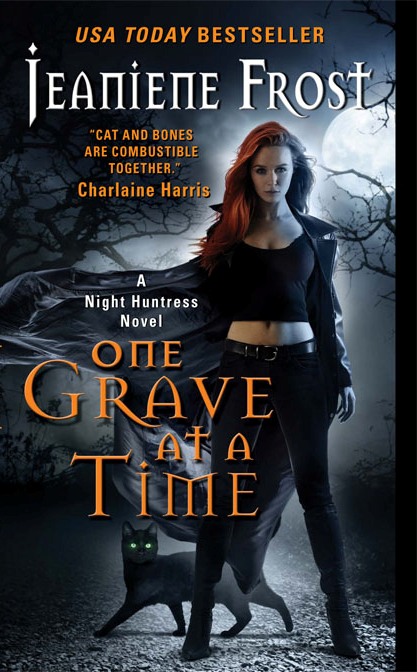 After the last battle against Apollyon in the grave yard, things finally look like they are calming down for Cat and Bones. When a ghost approaches Cat with the tale about how she died and how her murderer Heinrich Kramer a witch hunter of old is a ghost who never gave up his murdering ways. Each year on All Hollows Eve he can take physical form and he rapes and burns three female "witches" at the stake. Cat and Bones decide to take on the ghost Catherines ghostly tormentor. But how do you kill a murderous ghost? This time Cat and Bones ay have taken on the undefeatable.
I love my Cat and Bones and supporting characters! Jeaniene Frost is one of the most consistent authors in this genre and she scored another winner with this book. Ghosts are a refreshing change from the normal, there aren't that many books in the paranormal genre where ghosts are a central focus especially not murderous ghosts. Along with the Kramer plat line there is a new thorn in Cats side, the new director of her old team. For some reason he is fixated on Cat and almost got them all killed. I am interested to see how this will turn out in future books. He seems like he's going to be a major pain in Cat and Bones arses. What I also like about J. Frost is that her characters are not stagnating, they grow. You can definitely tell how Cat has matured especially in this book she trusts in her relationship with Bones and has come to realize that together they are stronger and not to leave Bones behind "for his safety". This is touching to read, because she could be pretty bratty in past books. The biggest problem I had with this book was that my beloved Vlad was not in it! So sad! He's my favorite, but he's getting his own series so I guess I can live with him being missing from this book.