Evernight: Will Thorne and Holly Evernight
The Darkest London Series: Book 5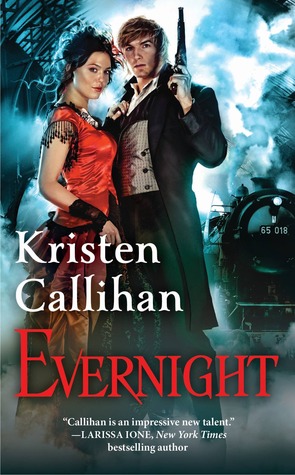 Summary:
From Goodreads.com
Once the night comes . . .
Will Thorne is living a nightmare, his sanity slowly being drained away by a force he can't control. His talents have made him the perfect assassin for hire. But as he loses his grip on reality, there is no calming him—until he finds his next target: the mysterious Holly Evernight.
Love must cast aside the shadows . . .
Holly cannot fathom who would put a contract on her life, yet the moment she touches Will, the connection between them is elemental, undeniable—and she's the only one who can tame his bouts of madness. But other assassins are coming for Holly. Will must transform from killer to protector and find the man who wants Holly dead . . . or his only chance for redemption will be lost.
Review:
So this is not my favorite book of the series. I think that Callihan had a lot of room to really play with these characters; they had a lot of potential for some cool things. Although I liked the book, compared to previous books it just wasn't as good and it left me feeling a bit flat. There weren't as many twists and turns we expect from this series. Something else that I guess didn't meet my expectations was Holly, I didn't really feel like I truly knew her. I knew her on the surface, sure, but especially when it comes to her feelings towards Will. Will, I knew he was all in, it was felt throughout the book. His character was more developed and I did really enjoy Will.
Now, I don't want you to think this book was bad because it wasn't it definitely did have a good story and some good emotion especially after both Holly and Wills torture together in the previous book. There was some healing they both had to go through emotionally and of course you don't have a Darkest London book without some intrigue. I just had such high expectations from this author and series. If you haven't been reading this series, you should be. It's a paranormal historical romance with a steampunk twist, so it's definitely unique!